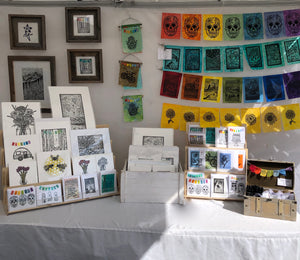 Prints and Flags
I create hand carved blocks and print them on flags, prints & cards to celebrate life's passions, milestones and moments.  I love what I do and am grateful the work resonates with others.
Our most popular flags...
Our small flag sets are our top sellers. People choose them to support, connect, celebrate a friend, family member or event. They are perfect for a new school year or classroom, a dorm room, a new home or welcoming a little one, celebrating a wedding, retirement or honoring someone special at a memorial service.
There are endless possibilities. Who will you share flags with?
Special thanks to Matt Abraxas of New Focus Films and the City of Lafayette for the video and peek into my studio and my art.